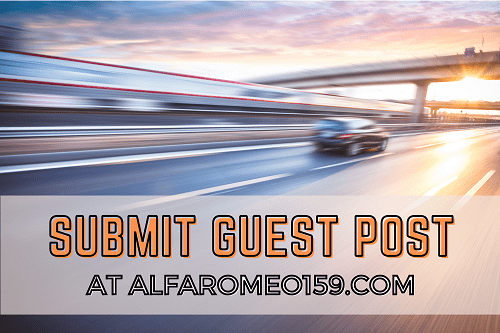 Are you eternally fascinated by the world of fast-paced automobiles?
Do you claim yourself to be an expert on car driving and maintenance?
Do you have a writing talent that would entice others who are passionate about cars?
If your answers to all the above questions are in the affirmative, then we'd say "you're welcome to the track"!
We're glad to know that you're interested in writing for us. We'd love to feature your original content on our blog. We're certain that our readers will be fascinated to read your interesting posts.
We're quite certain that writing for our guest blog will open the doors of opportunities for your personal blog or website too. You'll secure a steady flow of traffic through the backlink on our blog. The backlink will also boost your SEO ranking on search engines.
What We Expect From Guest Bloggers
We expect guest bloggers to submit high quality posts and articles. There are certain rules that we would like you to keep in mind while sending in your submissions. These are the standard guidelines that our editorial team considers while judging submissions for the website.
Word Count: We require that all guest posts should be at least 1000 words in length.
Outbound Links: We allow authors to link back to their own websites/blogs. You can include one outbound link to your blog, business or website.
But please be wise while using outbound links. This guest blog opportunity is not meant for advertising and marketing. We'll not accept posts which are too promotional and use outbound links for their commercial promotions. The use of anchor text for your link should be reasonably well-related to the context of the post.
Authority Links: You can include 2-3 informative links in the post to websites which are non-competitive and non-commercial.
Author Bio: It would be more personal and nice if our readers could know more about the guest bloggers. That's why we require that all guest pots should include a brief introduction for the author with a photograph. Please keep the introduction short. About 100-120 words would be sufficient.
Images & Media: We don't require bloggers to submit any images or videos with their posts. If you think certain images are absolutely necessary to be published along with your post, please reach us on email and take an approval first.
Grammar: We want high-quality content for our website. Your post should have immaculate English language usage. Please ensure that there are no grammatical or spelling errors in the post.
Uniqueness: We shall not accept any guest post that is found to be copied or spun from other internet resources. Your contributions should be unique and absolutely original.
Presentation: The content should be clear and well structured. Please make sure that you make use of short sentences and paragraphs.
Writing Style: We expect guest posts to be authentic and personal. Give us matter with your special tips, unique strategies and your true experiences. Your content should be well-researched, intelligent and accurate.
Submissions: We'll accept articles through email, or as links to Google Docs/ Drop Box. Please don't send any zipped files or attachments in the email.
Topics for Guest Post Submission
Cars Top 10s
Our audience loves to read about the top-rated and trending cars. You can contribute posts featured as "Top 10" lists, like the "Top 10 most expensive cars", "Top 10 cars owned by Hollywood celebrities", "Top 10 high speed cars" etc.
New Car News
There's nothing better than a great scoop on newly launched cars from the top brands. You need to give us good automobile journalism. Make sure your contributions contain well-researched and documented news.
Car Accessories Review
Do you love experimenting with car accessories? Then you can give your first-hand review on car accessories like din-headsets, GPS interfaces, auto furnishings etc.
Car Repair Tips
If you've handled minor repairs all on your own, that will make an interesting topic for our readers too. You share step by step instructions, repair tips; useful hacks etc. for conducting car repairs.
Used Cars
You may choose to write articles on topics like tips for buying used cars, and maintenance of used cars.
Car Insurance
You can write informative posts about auto insurance, accident covers and related aspects.
Car Technologies
New technologies and gadgets are hitting the trend list every other day. In the guest post you can give our readers a sneak peek into some of the developments from the techno-world of automobiles.
Other Topics Related to Cars & Auto
We have just listed a few broad categories for our blog here. You may have other ideas for a guest post on the subject of cars and auto that would interest our readers and audience. Please feel free to send your contributions.
If you're interested in this writing opportunity and have a great idea on your mind, then please don't sit back with it. We are eagerly waiting to hear from you and urge you to send your submission at the earliest!
Please submit the form below to reach us.