The Spider type 939 was launched at the 2006 Geneva Motor Show and was based on the Alfa Romeo Brera coupe released in 2005. The Brera Spider was based on the same Fiat Premium platform used for the Alfa Romeo 159 and is a 2-seater convertible.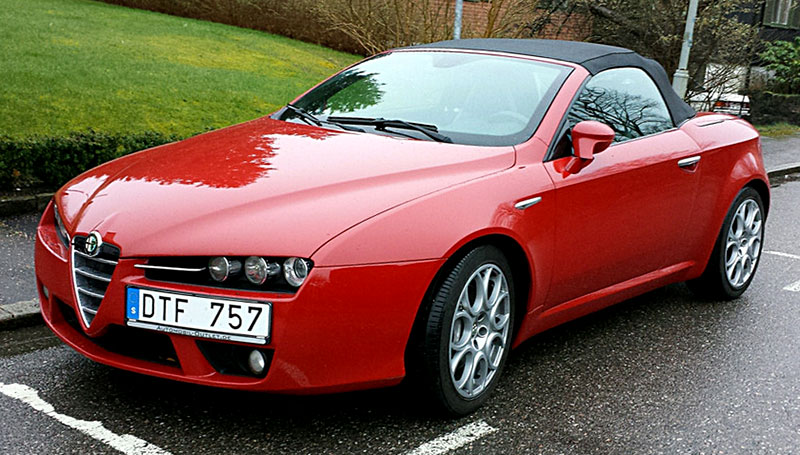 The Type 939 Spider was released as a replacement to the 916 Spider launched on 1995. The Spider was released with two different engines 2.2L straight-4 and 3.2L V6 JTS engines along with the JTD common rail Turbo diesel engine launched in 2007.
Other Editions
Italia Independent
The Italia Independent version of the Spider was launched in 2009 and is a result of collaboration between Alfa Romeo and an Italian design company known as independent. The Italia Independent featured 18 inch front and rear 'Turbine' styled alloy wheels, an aluminum fuel filter cap and an opaque-finished titanium paintjob and the 'Q4' 4 wheel drive. The different engine variants and gearbox variants available for the Italia Independent are as follows
Engines
2.0 JTDM
2.4 JTDM diesel
1.8 TBi
2.2 JTS
3.2 V6 petrol
Transmission
6-Speed Manual
6-Speed Semi-auto 'Selespeed'
6-Speed Automatic 'Q-Tronic'
Spider 'Mille Miglia'
The special limited edition of the Spider type 939 was released to celebrate the historic race of Mille Miglia held in Italy each year. Only 11 units of the car were produced to mark the 11 victories of Alfa Romeo in the race. The special edition recorded no major changes in the car's performance and only featured cosmetic changes in the paintjob with red stitched black leather upholstery. The Spider Mille Miglia is powered by a 3.2 V6 engine and a 6-speed manual transmission.
Spider Limited Edition
A UK-only release, the Limited Edition Spider was launched in 2008 and was available in 3 different colors. The several upgrades to the car's features included leather upholstery, 19 inch front and rear alloy wheels, electrical seats with heated memory and the Blue&Me hands free system. The different engine types available for this edition are as follows.
2.2 L JTS petrol
2.4 JTDM diesel
2.4 L JTD turbodiesel
3.2 L V6 JTS
2.4 L JTDM turbodiesel
Tested with the 185 HP 2.2-liter JTS petrol engine that helped the car achieve a top speed of 224 km/h and acceleration rate of 0-100 kilometers in 8.8 seconds. Image Credits @ Arto Katajamaa