Alfa Romeo 4C Spider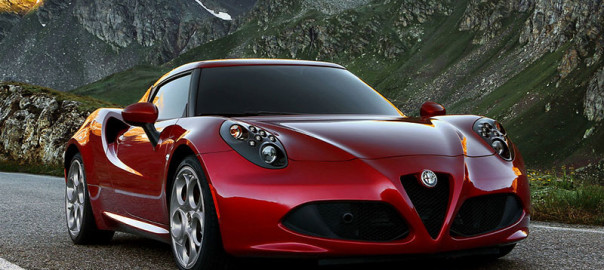 Alfa Romeo 4C Spider was launched at the 2014 Geneva Motor Show and is expected to be launched by 2015. The 4C Spider is considered the successor of the Alfa Romeo Spider which was announced as a part of the Alfa Romeo revival plan.
The 2015 Spider was said to be built on the Mazda MX platform which is pretty evident with the 4C Spider's Mazda MX 5 Miata based platform. The car shares the same engine as its coupe counterpart, the Alfa Romeo 4C with several degrees of changes like headlights, engine hood and exhaust.
Design and Features
While many times the conversion from a coupe to an open top or convertible doesn't fare well with many cars, the 4C Spider is a class in its own. The design excels the already sleek and sporty look of the Alfa Romeo 4C with major design improvements on the headlamps and a more aggressive yet sporty looking engine hood etc. Most parts were made with lightweight yet tough carbon-fiber and solid aluminum drilled 18 inch front and 19 inch rear wheels add that element of toughness to the sporty convertible. The engine used in the 4C Spider is the same 1,742 CC Turbocharged straight-4 with 6-speed Dual Dry Clutch Transmission. Several strengthening tweaks were made to the 4C Spider to make up for the missing top. The rear mid-engine and rear wheel drive is another major feature copied from the 4C coupe. The car is supposed to make its commercial debut by mid 2015. Image Credits @ 1GrandPooBah