With its frame weight not more than 995 kilograms, the Alfa Romeo 4C is a light-weight, compact sports car which was launched in 2013 Geneva Motor Show. The concept was first unveiled in 2011 and featured a size similar to the Alfa Romeo MiTo.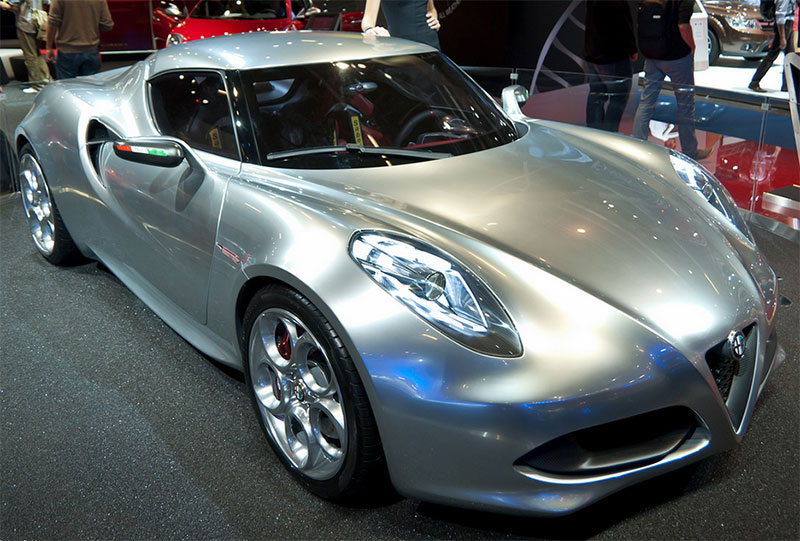 The Car was designed at the Alfa Romeo Centro Stile. The car's front and rear frames are made with aluminum with a carbon fiber chassis. It is a two seater sports car which is made in a similar fashion to the Alfa Romeo 8C Competizione.
Engine and Performance
The Alfa Romeo 4C is powered by a 1.7 liter, 1,742 CC, all-aluminum engine that produces 240 HP at 6000 RPM. The engine is supposed to make its return in the upcoming Giulia. The combined fuel consumption of the engine is 6.8 liters per 100 Kilometers. However, there is also a 1. liter engine variant which is said to appear when the car is launched. The detailed engine specs of the 4c are as follows:
Top speed – 258 Km/hour
Pickup – 0-100 Km/h in 4.5 seconds
Engine Type – Straight 4
Power – 240 Hp @ 6000 RPM
Design and Features
The Launch Edition of the 4C came in 2 colors, namely Carrara White and Alfa Red. A maximum number of 1000 units of the 4C launch edition are available in the world. The car's design shows a clear reference to the Alfa Romeo 8C Competizione in a smaller variant similar to the Alfa Romeo MiTo. The car features Bi-LED headlights, 18 and 19 inch front and rear wheels, race exhaust system, racing suspension and sporty looking upholstery and seats. The European release was different than the US release, as the US version's total weight exceeded the European version's weight by 100 Kg.
The car featured a Carbon fiber tub, Carbon fiber chassis, Aluminum front and rear frames, and the composite outer body which is considered to be as strong as steel but 20% lighter in weight. Apart from a six speed Alfa TCT Dual Dry Clutch Transmission, the 4C is also equipped with Alfa DNA, the revolutionary drive system that improves the car engine behavior, suspension, handing and brakes.
Updates
Although the Alfa Romeo 4c is an upcoming car, at the 2014 Geneva motor Show, a Spider variant was also announced with a manually removable top. The specs and the basic design remain the same as the coupe model except for the removable hard top. Some weight tweaks were said to be done by Alfa Romeo engineers to make up for the weight issues due to the convertible top and added a 60 kg of additional weight to the top. The 4C spider also has a distinctive engine hood, headlights and exhaust system from the coupe variant of the car.
Awards and Accolades
Most Beautiful Car of the Year 2013″ at the 29th International Automobile Festival in France
Import sports car category in the Auto Motor und Sport "Best Cars 2014" awards
Best Sports Car 2013 – El Economista vote
Sportscars/Imported category – 26th edition of Auto Trophy
The most exciting car Launched in 2013 – What Car?
2013 Car of the Year – FHM magazine
Image Credits @ Thomas Becker