The 8C Competizione was first presented as a concept car in 2003 at the Frankfurt Motor Show. Designed at the Alfa Romeo Centro Stile by designer Wolfgang Egger, the production version of the car was announced in 2007 and 1400 orders were taken.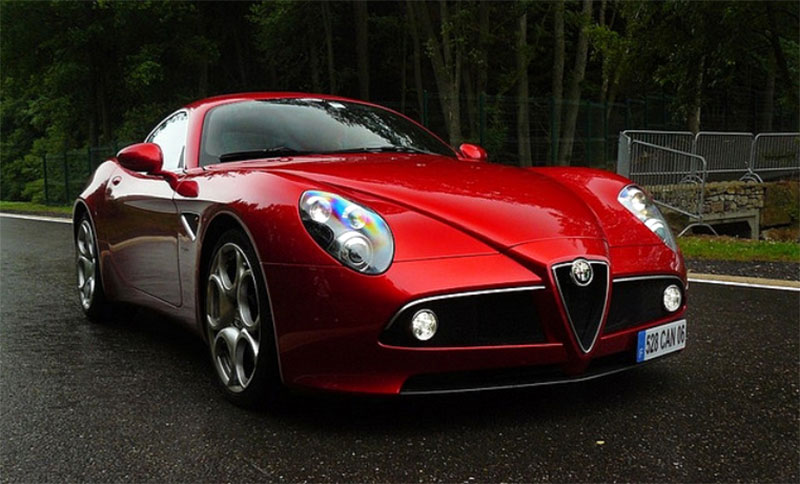 The name 8C refers to the 8 cylinder V8 engine that powers the car and Competizione means Competition. Despite of the 1400 bookings made for the 8C Competizione only 500 units of the Coupe and 500 unites of Spider variants were sold.
Design and Features
The 8C Competizione came in two design variants, the 2 door coupe and the 2 door convertible. The Spider convertible was launched 2005 as a concept car and 2008 as a production version. Based on the Maserati platform, the car was featured with triple headlamps and a 3 partition Alfa Romeo grille in the front and an equally sporty looking rear end with a curved spoiler. The 8C was an important design breakthrough for Alfa Romeo as the 8C Competizione spawned and inspired several other concept cars and commercial cars like the Maserati GranTurismo and The Alfa Romeo Pandion.
Engine and Specs
The 8C Competizione was powered by a 4.7-liter V8 engine that produced 331 Kilowatts of energy at 7000 RPM. The V8 Engine also has a variable fuel injection system that provided the Coupe with the maximum speed of 292 km/h and the Spider with a speed of 290 km/h. However the Alfa Romeo engineers claim that the car can go well over the official announced top speed and is speculated to be around 306 km/h.
The 8C Competizione has a front engine rear wheel layout with a 6-speed semi-automatic transmission. The transmission can be switched between different drive modes like Manual-Normal, Manual-Sport, Automatic-Normal, Automatic-Sport and Wet mode. The 8C also features a limited slip differential, special 20 inch tyres on the front and rear. The 8C's brakes worked exceptionally well with a stopping distance of 32 meters when traveling at a speed of 97 km/h.
8C Spider
The 8C Competizione was also released in a Spider variant in 2008 at the Geneva motor Show. The 8C Spider was built by the famous Maserati on behalf of Alfa Romeo. The same 4.7-liter was featured in the 8C spider and the car reached the slightly lower speed of 290 km/h. The Spider features Brembo carbon-ceramic compound breaks, electrically operated fabric roof and as carbon fiber windshield. A limited number of 500 cars were built and 35 of those were sold in the US alone. In 2011, the Evo magazine also titled the 8C Spider as the 'Best Sounding Car' in their yearly issue. Image Credits @ Robin Kiewiet